This conversation took place March 2017, in Cambridge, Massachusetts.

MEG: I can't believe we're actually in the same room, right near Harvard, petting your cat, drinking coffee, and…
PAM: …and watching the rain that's going to keep us inside all day.
MEG: In England it's always raining. But let's talk about Flash fiction, and the Flash Fiction Festival in Bath.
PAM: Do you remember how we used to say there should be a flash fiction festival or conference or gathering… We'd be at AWP (Associated Writing Program Conference) or San Francisco's Litquake festival, and we'd wish that flash fiction had its very own venue. And now, the UK is holding the world's first Flash Fiction Festival. And you're curating it. How did that happen?
MEG: Of course I remember! You'd been saying that for years—and here's how it came about: last summer Jude Higgins invited me to judge a flash fiction contest for the Bath Flash Award, and to participate at her reading event in Bath. This was how Jude and I first met in person. One evening, I told Jude how we felt that flash was ready for its own literary festival.
What a moment that was—Jude said she'd been thinking the exact same thing. And further, that she'd like to be the one to make it happen. She thought this would work beautifully as part of the Bath Flash Award that was already in place, and she was right. Anyway, the idea of the festival was born and Jude and I began to make plans during that visit.
PAM: And I'm so happy to be joining you!
MEG: So, let's talk more about Flash. When did you first start writing Flash? Or back up a bit. How do you define Flash Fiction?
PAM: Well, Flash fiction is really a matter of word length. And in a way that term has come to include sudden fiction, flash fiction, microfiction, nano fiction… and so on. It can be anywhere from 1500 words to three sentences, and of course the important anthologies edited by Robert Shapard and James Thomas and other writers separate them by size.
MEG: And you're in most of those anthologies, right? I remember reading your work in them so well…
PAM: Yes. They reprinted a story of mine in Sudden Fiction before there were labels Then James and I served on a literary jury together in Chicago, and he asked me to write a flash story for another upcoming book—and I did. From that point on I was fascinated with the length restriction—or challenge—and never looked back. But when did you start writing flash?
MEG: In a way, I was always writing short, having written poetry for years and working with poetry mentors, Ellery Akers and Molly Peacock. Then I discovered online flash magazines that had a very strong effect on me—I can't really explain it. It's as if the form found me. I went back to my old poems and remade them into tiny stories. It's as if the stories were probably always lurking there. One of them was accepted by SmokeLong Quarterly, and then I was asked to be a SmokeLong editor in 2009.
PAM: Wow. I love that magazine.
MEG: That's where I cut my editing teeth, as they say. So I've been writing flash for or 9 years. You can imagine how excited I was when one of my stories was included in Flash Fiction International, the most recent Norton anthology. So that was my path to flash.
But, Pam, weren't you one of the first teachers of flash?
PAM: Yes, in the beginning my college resisted such a specific course, so I told the students to get up a petition for a short-short workshop and they did. (Students have a lot of power they don't use.) I think it was one of the first short-short workshops in the country—somewhere in the early 90's.
MEG: I was still an actress then. During childhood and up until my mid-twenties, the craft of acting was endlessly fascinating to me, and I performed regularly. Now in writing I use so much of what I learned in the acting conservatory; that is, I engage what we used to call "sense-memory recall" to make an imaginary situation believable. Honestly, everything I learned about character motivation, the way dialogue is often a way to cover up a character's real feelings, all of that is amazingly useful.
Anyway, I never took a writing workshop, which is weird, because now I teach writing workshops. I felt enormously honored to have co-taught recently with the great writer/editor/teacher Robbie Shapard. We spent a week at Indiana University teaching the novella-in-flash to MFA students. We had so much fun creating unusual exercises, and they wrote some wonderful, quirky stories in that week. But I know you teach the flash for an entire semester. Where do you teach and how does that work?
PAM: First, back to Robbie; yes, he is great. I so admire his chapbook Motel Stories, one of the first. And his recent interview about Flash in Hoc Toc was dazzling.
So, my workshops: twelve students and I meet for 3 hours and 45 minutes, once a week, for the entire semester. And their standing assignment is to write one or two stories for each class. What I love about the short short workshop is that everyone's voice is heard every week.
MEG: That's special. I know a lot of regular workshops where students have only two or three stories work-shopped per semester. But one or two stories a week—that's amazing. Do any students fall behind?
PAM: NEVER!
MEG: Ever???
PAM: Never. I have an exercise in my textbook What If? for finishing every story you care about. It's full-proof. I'm going to be demonstrating it at the Bath Festival in my longer session. So no more about it here. In almost every class, I give students an exercise, a prompt. For example, the first assignment is to write two 250 word stories. One story has to be one-sentence long. Oddly, most students find that is the easier story to write. Other exercises might be to write a list story, an on-the-road story, a 100 word story, a story that involves a board game, a litany story. Some assignments have to do with form, and others with a subject. At the end of the semester we do a class anthology, and each student also puts together their own Flash manuscript of say 10 – 15 stories. Meg, you post great prompts in FB writing groups. I've used some of them in my classes. Which is your favorite?
MEG: I'm fond of word prompts. I choose about 10 plain words, non-writerly words….
PAM: What's a "non-writerly word?"
MEG: Well, "prune." Or "sheesh!" or "lamb chop". Laughter. I tell my students that their job is to somehow incorporate every single word into a first draft. They can drop them later of course. It's amazing what comes from these.
PAM: Hey, do you remember the Q & A we did at WordTheatre's Writers Retreat at Edale last summer, and the assignment we gave you? I don't remember how it started.
MEG: I just remember what you made me do. You told each participant to give me a word and then I had to use it in a story—due the next day.
PAM: Do you remember some of the words?
MEG: How could I forget!!! Words like: "Prune" Hah. Ukelele, follicle, bingo wings, callous….
PAM: But you did it. And you weren't allowed to drop any words. That story was great.
MEG: Thanks! It was a challenge! I think knowing that I had to read it to you all made me work like crazy. I didn't sleep. You said it had to be a finished story. But how do you think about Flash in story terms. Is it merely a shorter short story?
PAM: No, no, no. A flash story is not a condensed short story. It's not a warm-up for writing a longer story. It's not a prose poem. Its it's own animal. I like a Flash story to have a sense of narrative, of movement, and urgency. And of course details matter. Your stories have some of the great narrative arcs of flash, and of course you are great at disjunctive, wild details. Can I ask: are they from real life or your vivid imagination?
MEG: (Laughing.) Thank you! Both. I never plan what I'm going to write. Flannery O'Connor said, "I write to find out what I think." Same for me. I let the story find me while I'm writing the story. I'll start with anything, and I have no idea what the end result will be. Where do you get your stories?
PAM: Everywhere. My life, my kids' lives, something that someone said, or pure imagination. Currently I'm revising a story about a woman who steals remote controls when she is leaving parties. I have no idea where that idea came from. None. Maybe I wondered about doing such a thing. Ann Beattie once said, "A writer doesn't exorcise her demons, she courts them."
Do I have time for a word about revision?
MEG: Yes, yes.
PAM: I totally believe in the revision process. First one writes the first draft and it might take a lightning twenty minutes or two hours or a day. In this time you aren't over-thinking it. You are simply writing the best story you can write. It's like what you just said—the story is finding you. And then comes the long slow rewarding process of revising the story. Of understanding what you have written, and asking how you can make it better. And this could take a week, a month a year. One must live with the story to give it life. Paul Engle, who started the famous Iowa Writers' Workshop said, "A work of art is first of all work."
MEG: Sounds like you're going to ask our Festival participants to do some work.
PAM. Absolutely. I hope that's why they are coming to the First Flash Fiction Festival in the world. The great artist Chuck Close said, "Inspiration is for amateurs. The rest of us show up and get to work."
MEG: Sometimes I do up to fifty drafts and it can take five years before I feel settled about it. Good writers are obsessive about revising their work. That's why I drink so much coffee. Speaking of that, I need another cup.
PAM: First, tell me: how could you leave San Francisco??? You co-founded The Flash Fiction Collective Reading Series with literary movers and shakers Jane Ciabattari and Grant Faulkner. You were at the center of things.
MEG: Oh, Pam. It's true that friends were worried when I left the states because I was leaving so much behind. It was hard to let go. But I'll be spending time in both places.
PAM: Opens a bottle of wine instead of making coffee. And now it seems you've discovered a new community in England.
MEG: Yeah. And this has everything to do with my new friend and ball of energy Jude Higgins, the founder of the Festival, and our meeting last summer in Bath, which I talked about earlier. Then over at the University of Chester there's the International Short-Short Story Press, edited by Ash Chantler and Peter Blair. They publish unique flash fiction anthologies, including the recently released Funny Bone: Flashing for Comic Relief.
PAM: And you and I both have stories in Funny Bone—great to be there with Lydia Davis, and Roddy Doyle and David Gaffney and Nuala O'Connor.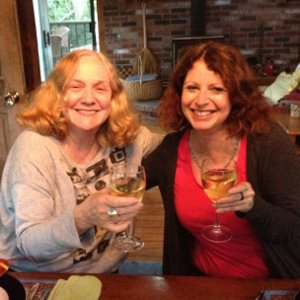 MEG: Ash and Peter also publish Flash: The International Short-Short Story Magazine. And of course there's the U.K.'s National Flash Fiction Day and the yearly NFFD anthology, founded and published by Dr. Calum Kerr, in Bristol. I'm thrilled to be a guest editor this year. And I'm excited that you'll be meeting everyone! And there are people coming I haven't met yet except in virtual flash-land. Being taken in by the U.K. flash community has made it a new and exciting time for me. Once again, I'm super involved with what I love to do.
PAM: Produces two wine glasses. Pours. I think a toast is in order.
MEG & PAM: To Jude Higgins and the Flash Fiction Festival. See you there.